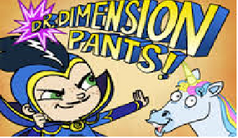 Dr. Dimensionpants is a Canadian animated television series. The series was created by Brad Peyton and produced by Cookie Jar Entertainment and DHX Media and Teletoon The series was to be broadcast on Teletoon in Canada. Its international premiere is scheduled to be on Cartoon Network in USA Soon. Season 1 will have 26 episodes.
The series follows Kyle Lipton, who, for all his life was just like the other kids – playful, happy and without a care in the world until one day an inter-dimensional portal opened up and dropped onto his lap a pair of glowing pants. Now Kyle is Dr. Dimensionpants, a super-hero with a super intense attitude who must deal with the constant threat of inter-dimensional villains bent on destroying the Universe! Okay, not the universe but his hometown of Cityville, which is like the universe to a 12-year-old boy.
Season 1- 22 min of 26 episodes
It airs on Teletoon and Teletoon (French) international premiering on Cartoon Network USA and Channel 4.